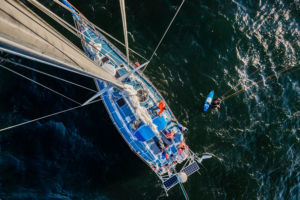 The sailboat Maewan IV
Our nomadic base camp
Being pushed to my limit? No problem, I was made for this! However, Erwan could you please tighten that screw while Marion checks our water stocks?
Date of birth 13/07/1982
Home port L'Aber Wrac'h
Size10,87m x 3,82m – Weight: 10 tons
OutfitAn aluminium hull and 5 sails
Hosting capacity Up to 6 people onboard
Autonomy (food and energy)5 meses
Anti-waste policy Maewan is like a mini-earth. A space with limited resources to share. It's a true environmental school, everything has to be used with parsimony. On board, waste is strictly forbidden. Its sails allow us to use the elements to fuel our displacements.
Distinguishing feature Ready for anything
SloganKeep me tidy, look after me and a muerte!